1-828 / 1-830 Vibration Transmitter
Unique Features To Save Time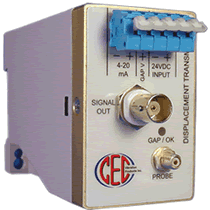 Features:
4-20 mA output proportional to mils Peak-to-Peak displacement
Compatible with major probe types
DIN Rail mountable
Probe failure detect modes
BNC buffered output and Gap voltage
Applications:
Turbine / Generator Sets
Fans or Blowers
Motors
Gearboxes
Bearing Caps
Description:
The 1-828/830 series radial displacement transmitters continue the successful line of vibration transmitters designed and manufactured by CEC. These single channel signal conditioners interface with proximity transducers like the 3300, 3300XL and 7200 series or probe types with similar specifications. Each unit provides a calibrated 4-20 mA output that is proportional to the radial peak to peak displacement vibration sensed by the transducer and extension system. The probe Gap and buffered dynamic signal are easily accessed via the front panel BNC.
Probe failure conditions are quickly identified via the multicolored status LED and the 4-20 mA output. This unique feature allows for instant feedback of the probe system condition during installation or machine operation.